Annual Report 2021-2022: social responsibility and commitment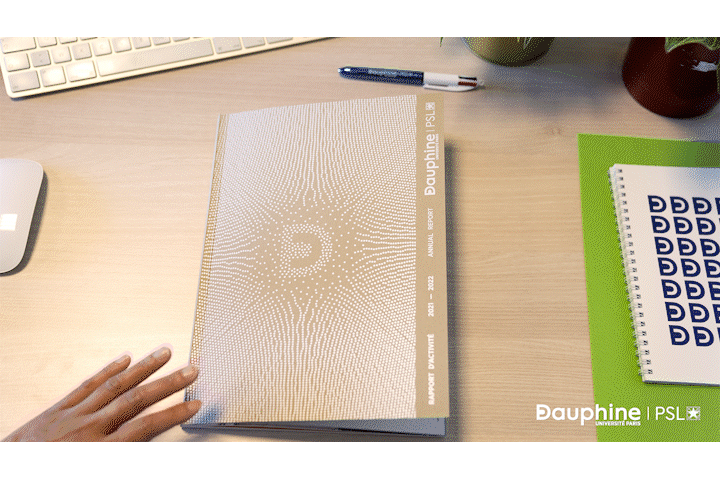 New training programs, scientific work, university social responsibility, international outreach... The university is laying the groundwork for its major projects in the annual report 2021-2022, particularly in relation to its commitments to environmental and societal issues.
"Dauphine Durable" and social responsibility
Environmental and Social Responsibility is a major strategic focus for the university and has become a priority with the program Dauphine Durable.
Thus, the establishment of an Environmental and Social Council (ESC) at the beginning of 2022 aims to better integrate the management of sustainable development and social responsibility in all the actions of the university's governance and its operation. A space for exchange and discussion composed of elected representatives of staff, students and union organizations.
Strongly marked by the Russian offensive on Ukraine, Dauphine has mobilized with PSL to support the Ukrainian academic community, in particular through the reception of scientists and 50 students in exile in the various courses of the university and within a new "Passerelle" University Diploma entry level in French. Learn more about the university's hospitality policy and initiatives >
The laying of the cornerstone of the New Campus on December 7, 2021, marks the beginning of the major architectural project to transform the Paris campus by 2027. Students, professors, researchers and staff will be welcomed in completely renovated spaces and a new wing.
In line with the Dauphine Durable program, the "New Campus" project aims to reduce the university's environmental impact: renovation work to improve the building's heat and sound insulation, circular economy solutions to renew the outdoor furniture... More information on the "New Campus" project >
A document in line with Dauphine's commitments
To be leafed through: 90 pages printed on paper sourced from sustainably managed forests. The wood is FSC (Forest Stewardship Council) certified, attesting to our attention to compliance with standards at all stages of production. A major tool in Dauphine's communication, the activity report is also available in its digital version.
Published on 6 October 2022
---
---