Dauphine - PSL, the first French university to gain accreditation in 2009
A European quality label awarded to the best schools and universities oriented towards management professions
EQUIS is a European accreditation that is internationally recognized by the EFMD (European Foundation for Management Development). EQUIS focuses on disciplines pertaining to management and economics, and accredits institutions with international standing in these fields for a period of three to five years based on the quality of their academics, their business connections, and their research activity.
EQUIS establishes Dauphine - PSL's credibility among some 189 other accredited international institutions and promotes partnerships with its foreign counterparts. In 2012, Dauphine - PSL obtained its EQUIS re-accreditation for a period of three years, then in 2015 for a period of five years. On November 2020, the university announced its renewed accreditation for another five years.
To read :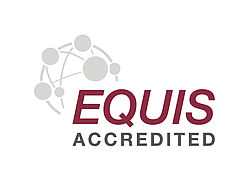 An accreditation that ensures a high level of requirements and quality of the diplomas awarded
The EQUIS label is awarded by the European Foundation for Management Development (EFMD), a body that accredits management training in higher education institutions, and is comparable to the American AACSB.
Accreditation is based on exacting international standards and focuses its evaluation on five areas:
Mission, governance, strategy, and resources;
Programs, teaching staff, student services, personal development;
International scope of the institution, students, professors, and programs;
Research
Social Responsibility of the University
Corporate relationships and contributions of the School to the community.
The jury lauded the following as strengths of the Dauphine-PSL program:
The rigor of the academic training, whose thoughtfully-constructed and student-centered curriculum combines soft skills with innovative pedagogical outcomes.
The sense of belonging and engagement expressed by students, who are supported by Dauphine-PSL and an extensive alumni network throughout their training and onwards into their transition to professional life.
The internationally-recognized quality of the teaching and research faculty. Dauphine-PSL is a major international locus of interdisciplinary research.
The focus on ethical engagement, responsibility, and sustainability (RSU) that have guided Dauphine-PSL's strategic planning since 2016.
Last but not least, the university's strong connections to the world of work are most definitely an advantage.